The Mighty Re-arranger who curates our every living moment has a real treat for us next week, one which challenges us to make new meaning, feel differently and explore the essence of things.
As the run up to elections hots up, diplomats and media hacks work overtime and people kill and are killed in street violence we develop an idea of where each of us is at. Some of us are nursing broken hearts, others marketing and still more distrust anybody with anything remotely resembling a political position.
A Tale of Two Cities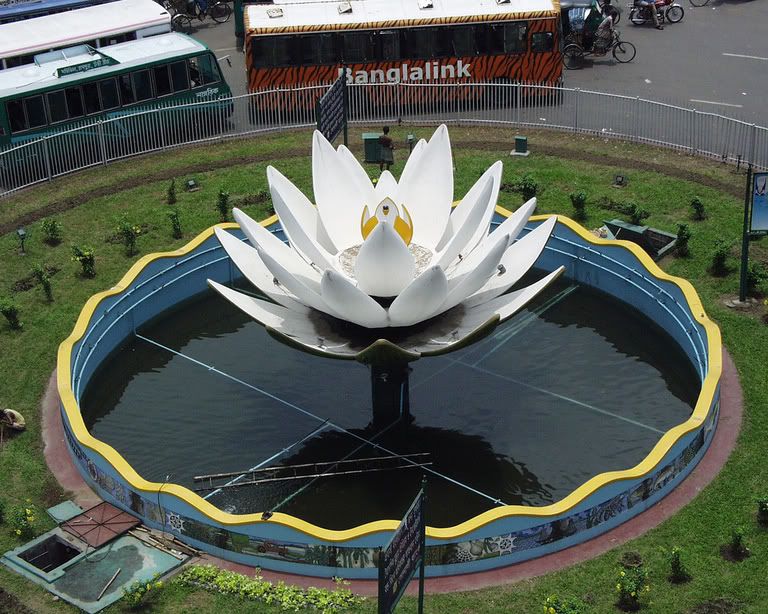 The roundabout in Motijheel Dhaka, where protesters
were massacred by cover of darkness 6th May 2013.
Hay fest's Tahmima Anam, daughter of Daily Star Editor Mahfuz Anam launching Hay Dhaka 2012, which excluding inconvenient truths.

A few days ago Hefazot e Islam announced they would be offering Friday congregational prayers on November 15th at the Motijheel site in Dhaka*, from where they were so violently evicted on 6th May earlier this year. That massacre was the centre piece of a constellation of state crimes that one might describe as Bangladesh's Lal Masjid without the militants or media coverage. This time, Hefazot e Islam are demanding an investigation into what happened.
In an almost orthogonal universe, the Hay Dhaka Literary Festival will take place 2.5 km to the west at the Bangla Academy by the Dhaka University campus from Thursday 14th to Saturday 16th November. From the
promotional feature
in one of the organiser's father's newspaper The Daily Star, figures like Pankaj 'Unpacking Empire' Mishra, Ahdaf
'Pro-Egyptian Coup'
Soheif and Tariq 'I told Mujibur Rahman to go for total Independence' Ali will feature.
It looks like an interesting set of staged events, albeit quite elitist, donory and insulated from the reality unfolding in Bangladesh as I tap on a keyboard from thousands of miles away. Read politically this festival provides a platform for Eastern liberal performance to demonstrate how much progress has been made towards
Macaulay's Development Goals
. They are numbered below.
We must at present [1] do our best to form a class who may be interpreters between us and the millions whom we govern -- a class of persons Indian in blood and colour, but English in tastes, in [2] opinions, in [3] morals and in [4] intellect. To that class we may leave it to [5] refine the vernacular dialects of the country, to [6] enrich those dialects with terms of science borrowed from the Western nomenclature, and to [7] render them by degrees fit vehicles for conveying knowledge to the great mass of the population.
Minute by the Hon'ble T. B. Macaulay, dated the 2nd February 1835.
A World Bank analysis published last week showed that Bangladesh had surpassed India in reaching its Macaulay Development Goals. Ten million nationalists smiled.
So what's the matter?
I fear that there will be another massacre, that the Government of Bangladesh will act with wild abandon and that our native seculibs, and the wider Internationale will continue to provide the
mind numbing mood music
.
Although nobody really believes the press, it is important not to give them a free ride. The BBC's coverage of Bangladesh is increasingly resembling that of the state broadcaster BTV and the local English-language outlets, The Daily Star, the Dhaka Tribune and BDNews24 exhibit a diversity of crookedness which grows more hyperreal with every passing day. Perhaps it is a natural pity that the official transcript of events is a million light years away from planet truth which I hope to visit sometime.
The right to form your own opinion and refine your thoughts is at a low point in Dhaka. This is a critical block on maturing our culture, thinking through our problems and being vibrant. Amar Desh's Mahmudur Rahman who published the Tribunal Leaks and challenged the Shahbag while everybody else was trying to get down with the kids is still in detention and his presses sealed. In recent days the decolonial poet and agriculturalist Farhad Mazhar has been subjected to a witch hunt for challenging the media's complicity in the murderous strife that is lobotomising the country. See t
his Facebook group
.
In the absence of official journalism of integrity, competence and courage, there is a need to bypass it with real human communication and sense-making. We have been here several times before and need to remember to be less sheepish this time.
__
* I hear that the Government's 'sufi' toolboy Tariqat Federation is trying to throw a spanner in the works, watch this space.